It was the third week in August and our team boarded a flight headed to Omaha Nebraska where we would then spend the next nine hours driving, stopping to stock up on supplies and making our way to Wagner on the Yankton Sioux Reservation in South Dakota. We would spend the first night there before heading on to Mission South Dakota the next morning. Little did we know that God had entrusted our team to bring light into a week filled with spiritual darkness. Just 3 weeks prior to our departure, God had changed our location from the Yankton Sioux Reservation to Rosebud Reservation where we would be in the middle of the Sun Dance Ceremonies taking place that week.
The Sun Dance is a religious ceremony practiced by a number of Native American peoples, including the Lakota on the Rosebud Reservation. In 2003 traditional spiritual leaders of several tribes banned non-natives from sacred altars and from attending the Sun Dance. In most Sun Dance cultures, it is forbidden to film ceremony and prayer, so few, if any, images exist of authentic ceremonies.
It was our understanding that many of the ceremonies include specific dances and songs passed down through many generations, the use of traditional drums, the sacred pipe, tobacco offerings, praying, fasting and, in the case of the Lakotas, the piercing of skin on the chest, arms or back.
The object of the Sun Dance practice of piercing is to make a sacrifice to the Great Mystery, and to pray while connected to the Tree of Life, a direct connection to the 'Creator'. A common explanation is that a flesh offering, or piercing, is given as a part of a prayer for the benefit of one's family and community.
Voluntary torture is part of the climax of the Sun Dance in the Lakota tribe. In those cases, the dancers were pierced through the breast or shoulder muscles by skewers which were tied to the center pole, and they danced by pulling back until their flesh tore away.
The sacrifice of the dancers through fasting, thirst, and self-inflicted pain reflects the desire to return something of themselves to nature, with special reference to the life- sustaining buffalo, in exchange for past and future benefits.
The great Sun Dance ritual establishes the tenet that there is no final death, for all living things can be renewed. Human beings, however, like all their fellow creatures, must cooperate in order to bring about universal regeneration.
While the Lakota people were trusting that their sacrifices and ceremonies to Wakan Takan (the Great Spirit) would bring about universal regeneration, our team was sharing with ~50 children and youth, that came each day to attend sports camp, about forgiveness and eternal life through Jesus Christ's sacrifice. That week Ephesians 6:12 resonated in each of our spirits. 'For our struggle is not against flesh and blood, but against the rulers, against the authorities, against the powers of this dark world and against the spiritual forces of evil in the heavenly realms." God had given into our hands the hearts of children that we might be able to share the love of Jesus with each of them.
We spent each day playing, instructing, encouraging, feeding and loving each one. We got to know where they lived, their names and their personalities. They were no longer children on the reservation, they were now individuals that had become our new friends. We were told that the Lakota people will allow non-natives to pour into their children until they are age 12. Beyond that age they are reluctant to allow any further interaction. For whatever reason, we were excited to be given the privilege to teach these children about Jesus during the most impressionable years of their lives. We were able to pray specifically for each one throughout the week until we were also able to see 20 children make first time decisions to follow Jesus, including several youth.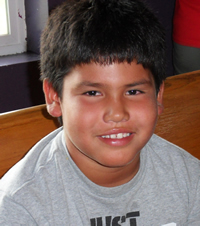 Kolton came each day eager to play and listened intently as we shared the message of Jesus's love and forgiveness during the closing rally. On that final day of camp, when given the opportunity to give his life to Jesus, he raised his hand. You could see in his face that his decision was real as he asked for forgiveness and that Jesus would come into his life. He wept with one of our team members as he realized how much Jesus loved him. His life was changed for eternity that day.
We are now trusting God to work through the resident missionaries, Pastor Johnny and Heidi Wade, as they continue to water the seed planted by our team.
Please keep the Lakota people in your prayers that God would continue to use Pastor Johnny and Heidi and future teams as they reveal the "True Creator" and how He can be their God and Savior.
Visit our Facebook photo album to view more photos of our time on Rosebud Reservation.