Project Serve Mission Trips offer families the opportunity to serve side-by-side in ministry. From construction to shopping, home improvements to discipleship there are ways for every age to serve families in need of Jesus's love and compassion through practical means. Make a choice to serve as a family and meet the needs of children and their parents on the Apache Reservation.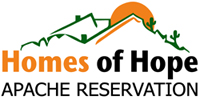 Trip Location: In August of 2014 we are returning to White Mountain Apache reservation in Arizona to once again serve the people of White River and work alongside Missionaries/Pastors Robert and Sharon Jimenez.
Trip Description: In an effort to help meet the needs of kids and their parents, I am working with the mission coordinator on the Apache Reservation to develop a program to "Adopt a Family" that will help teach kids about personal hygiene, positive character traits and the hope that comes through Jesus. As part of the "Homes of Hope" project we are extending our reach as we adopt specific families that are in need of assistance.
Through quality time with the kids we believe that teams can help improve the lives of these children and give them a fresh start in their homes, with their peers and in their schools. Activities with the kids may include sports, discipleship classes, special outings, shopping, furnishing and decorating their bedrooms etc.
As teams adopt entire families, they will help educate parents in the areas of child development and the need for Jesus in their daily lives. We will also help with the purchase of household supplies and much needed school uniforms and winter clothing for the children.
As families demonstrate a desire to learn and grow as a family, teams will come alongside to assist in the renovation of basic housing needs including electrical, plumbing, weatherproofing, painting, roofing, general repairs etc.
For more information about Homes of Hope – Adopt a Family visit www.helpusbringhope.com and go to Homes of Hope.
Trip details:
This trip is designed for the entire family, ages 10 and up. Everyone will have a place to serve based on individual skill sets and desires. Our main purpose for investing in families of this community is to share the love of Jesus through real and practical ways.
Trip Dates:
July 30 – August 6, 2014
Cost:
$950 trip fee
(In addition to trip fee, funds for building materials will need to be raised.)
If you are interested in being part of this team:
1. You must be age 10 or older.
2. Trip cost is $950 per person (includes airfare, meals, housing, ministry supplies, love offering and fun day) Note: transportation to and from airport is not included
3. Call to confirm availability – Terry Williams 301-416-0568
4. Download and complete the "Project Serve" application below.
5. Mail your application and $50 application fee no later than April 5 to reserve your spot on one of the weeks. Space is not guaranteed until $50 application fee is received.  (Made payable to iRock Ministries) to – iRock Ministries, 4015 Forrest School Rd, Smithsburg MD 21783
Project Serve Application Downloads
PS Student Application Arizona 2014 (Ages 10-17)
PS Adult Application Arizona 2014 (Ages 18+)
Sample Letter to send to supporters