August 6-11, 2017 – Hagerstown Maryland
If you are hungry for a life full of passion instead of apathy; if you are ready to use your specific gifts and abilities to make a mark on the world; if you need to be reminded that God loves you and has a plan for your life… CAMP WILD is for YOU!!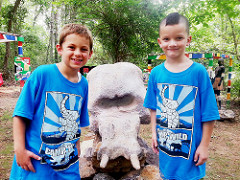 Wildside Youth Ministries is a ministry of the Hope Center and is making an eternal impact on the city of Hagerstown MD . Their vision is to reach into the heart of Hagerstown and bring spiritual life and love to at-risk kids who have gone under the radar and slipped through the cracks.
In 2010 the camp experience for at-risk youth was restructured and launched as Camp Wild. Camp wild is a free, missionary-themed, day camp for Hagerstown's at-risk children ages 5-12. They desire to provide a place for children to learn about Jesus, get outside of the city, connect with counselors, and simply have fun. They are wild about Jesus and want the youth in their community to know about Him!
Trip Description: Our ministry is partnering with Camp Wild to help provide the volunteer base that is needed to reach out to over 250 unsaved, unchurched inner city kids in Hagerstown, Maryland. The camp provides a week of summer fun for campers who want to see adventure, make friends and meet the greatest friend they will every know, Jesus. The camp runs from 8 am to 5 pm Monday through Friday. Teams would be involved as camp staff, small group leaders and helping with indoor and outdoor camp activities including zip line, art trail, inner tube rides, hay rides and much more. More importantly the time spent with the campers will build the necessary relationships so that you are invited to share your faith as they learn about Jesus.

Trip Goals: to present the gospel to as many children as possible through age appropriate, fast paced, fun filled activities that will lead the children into a personal relationship with Christ; to familiarize families with the local Wildside Ministry in the hopes that their kids will become part of the weekly services where they can grow together in Christ. This is an amazing opportunity for your team to be part of making an eternal difference in the lives of individuals and a community.
Trip details:
This trip is designed for the entire family, ages 14 and up. Everyone will have a place to serve based on individual skill sets and desires. Our main purpose for investing in families of this community is to share the love of Jesus through real and practical ways.
Cost:
$200 trip fee
If you are interested in being part of this team:
1. You must be age 14 or older.
2. Trip cost is $200 per person (includes meals, housing, ministry supplies and love offering to the church) (Transportation to and from Hagerstown Maryland is not included in the cost)
3. Call to make sure there are still openings on the team – Terry Williams 301-992-5394
4. Complete the online REACH Mission Trip application.
5. Mail your $50 application fee (Made payable to iRock Ministries) to  – iRock Ministries, 4015 Forrest School Rd, Smithsburg MD 21783. Include your name in the NOTE area of the check.  Application DEADLINE is JUNE 22. Balance of $150 due May 22.