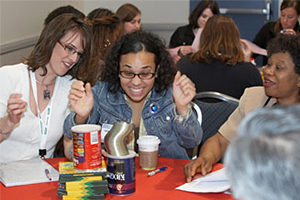 Workshops are a great way for us to help your children's pastors, leaders, and ministry teams. We enjoy serving  established ministries, church plants, church revitalization, small churches or the district. Each church is different so we like to customize workshops.  We work with individual church pastors, lay leaders or sectional presbyters to determine purposeful and relevant topics that would most benefit God's people for the works of the ministry.
2Tim. 2:15 "Do your best to present yourself to God as one approved, a workman who does not need to be ashamed and who correctly handles the word of truth."
Jeannie Figueroa; Jubilee Christian Center – "Well, we really do appreciate you and all you have done for us. Thanks so much for speaking with the volunteers. They really enjoyed it and left there feeling blessed and encouraged. The kids also enjoyed having you share in their service."
We can help with a workshop virtually any day of the week.
Feel free to contact us to check available dates and to book your workshop today.
Note: Workshops aren't exclusive to those listed. If you need training in another area that is not mentioned, please let us know and we will customize a workshop for your specific needs.
Workshop ideas:
Helping Kids Experience God

– There is a difference between Knowing God and Experiencing God. What's the difference between knowing and experiencing – It is love. Satan knew God but he didn't love God. We need to help our kids love, therefore experience God

Equipping and Releasing Kids into Ministry

– Children impact people, both young and old and should be given the opportunity to discover and develop their ministry gifts by involving them in ministry. Let's look at why and how we can prepare kids for ministry.

Kids in Ministry

– Empower your kids for ministry as you help them discover their gifts and talents. Learn ways that kids can be used now in ministry as you help them develop a servant's heart and train them in various ministry areas.

Developing a heart for missions

– Missions is not just about giving money and sending packages to other countries but also about creating a heart of compassion in children. How can we help kids not only know about missions but to have a compassion for others?

No Compromise Commitment

– 85% of teens raised in evangelical churches in America stop attending church in their late teens and early 20's. This class will address this concern and help come up with some ideas to help our kids make a commitment to Christ.

Handing Down Your Faith

– Are we handing down a knowledge of who God is or are we handing down a faith that our children will carry with them as they make it personal in their daily lives?
1o Signs of Spiritual Growth – There are ways to know if your children are growing in their relationship with the Lord and maturing spiritually. Specific signs will surface in their lives as they grow. Let's take a look at 10 of them.

Children and the Holy Spirit

– Can children be empowered by the Holy Spirit in the same way as an adult? Let's take a look at what scripture says and then how we can encourage children in their walk with the Lord.

Bringing Puppets to Life

– Puppets are great tools to teach our children but if there's no life, there's no impact. Let's give those puppets a personality of their own and use them more effectively to minister to our kids.

Building a Dynamic Ministry Team

– Christ modeled the first effective ministry team with the 12 disciples. How can we take that model and apply it to our individual ministries so that we too can impact the world?

Hearing God's voice

– God speaks to us in many different ways. Let's discuss 10 of those ways so that we can help children better hear God's voice. Who knows, it may even help us better hear God's voice.

Recruiting as Jesus Did

– Let's take a look at the Master's seven keys to finding volunteers and how we can apply that to our own area of ministry.

District Focus Ministry resources

– District ministry events and resources are available to our churches if we know how to tap into them. Don't miss out on what the District is providing that will help you disciple your kids.