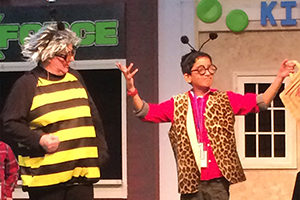 One of the ways we enjoy helping those who serve our children is by doing a full Kids Service at your church. We can customize a topic that you want covered but most often times as a missionary team we can come and focus on Missions. We like to help kids realize what a vital role they play in reaching other kids around the world with the love of Jesus Christ. Whether it's a midweek or weekend service, our services are high energy and contain fun games, relevant object lessons, meaningful stories, exciting drama and real life challenges.
Feel free to contact us to check available dates and to book your service today.
Pastor Todd McKeever; "I have had Terry come in and do a service for me on a Sunday morning, and by the end of it every child left with a deeper love for God and missions. Terry brought a fresh word from God in a very creative way that touched the hearts of everyone in attendance.
I would personally recommend Terry for anyone's ministry anywhere. There is one thing for sure; Terry will search the heart of God to see what He wants for your ministry. Terry will then find a creative way to deliver that discovered heart beat from God to all in attendance."