We are excited about the opportunities that God has placed in our path as we prayerfully follow God's direction for the ministry He has entrusted to us.
Over the years we have come to realize that God's people truly want to serve Him and impact lives for eternity but don't always have the tools. That's why we are here; to help you discover and become confident in the power that God has given you to impact the world.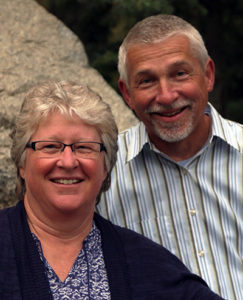 Rusty and I became full time Missionaries to children in 2008. Before becoming missionaries we served as children's pastors for 5 years and before that volunteered in various areas of children's ministry for 20 years. (I would say that we have half a century of experience in children's ministries between the two of us, but that would really make us sound OLD!!)
So, with the help of our family we came up with the name iROCK Ministries. Before you think us a bit vain, iROCK is an acronym for "Intentionally Reaching Our Community Kids".
We know that God has called us to the United States where 24 million children in communities across the United States need to know Jesus and we feel an urgency to empower as many people as possible to help.
"I believe that children have huge potential and an amazing plan for their lives and if given a place of value and influence will become vessels of transformation in their homes, school, communities and the world. It's through the children that we will see healing and change in the souls of the lost." Terry Williams
Rusty and I are certainly opposites. Rusty is very much a 'behind the scenes' person and I am not afraid to be in front of people. I lovingly refer to Rusty as my chauffeur/gopher because he provides the support necessary for me to flow in my giftedness and is a huge help to our ministry.
I, on the other hand am not extremely reserved in my approach to ministry. I enjoy taking on the personalities of different characters, which has become a trademark of my ministry. I will go to great lengths to train, resource, encourage and empower people to learn or to reach as many children as possible with the message of Jesus' love and forgiveness.
One of the other things I enjoy is being able to mentor and coach others. In 2015 we had our first college intern and hosted our first summer interns and are continuing to expand our internship opportunities as our ministry grows.
That brings me to why we exist; "He is the one who gave these gifts to the church: the apostles, the prophets, the evangelists, and the pastors and teachers. Their responsibility is to equip God's people to do his work and build up the church, the body of Christ, until we come to such unity in our faith and knowledge of God's Son that we will be mature and full grown in the Lord, measuring up to the full stature of Christ" Ephesians 4:11-13
---
Want to know more about our family and have nothing else to do? Grab a cup of coffee, sit back and relax as you read more about us.
Our Family: Rusty and I have been married since 1982. Sure, go ahead and do the math. That's a LONG time. Our oldest son Russ, serves in the U.S. Air Force as a C17, KC135 and T1 instructor pilot, currently lives in Washington with his amazing wife Frances and three wonderful children Nate, Emily and Joshua, while our youngest son Ben, videographer, couch surfer and adventurer, quit his job and is now living in a van converted home, traveling the continent. Not sure where he is living most of the time. (Feel free to ask us about this further when you get a chance)
Full Name: Terry Jean Williams
Born: March 8
Saved: At an altar call in a Brethren church with my high school sweetheart.
Baptized in the Holy Spirit: At the age of 21 in a church pastored by a born again Greek Orthodox minister.
Called to full-time ministry: In 2001, I compared myself to a modern day Moses because I was called into full-time ministry later in life.
Ministry experience: 9 years as a Straight Arrow leader in Royal Rangers, 3 years in youth ministry, 4 years in Children's Church in Hagerstown, MD. 5 years as a full time children's pastor in Alexandria, VA. Nationally appointed in March 2008 as an Assemblies of God Children's missionary.
Strengths: Seeing the gifts and abilities in people and training them to move in their strengths as they impact people's lives for Christ.
Favorite ice cream: Denali Moose Tracks
Favorite food: Any type of seafood, dark chocolate
Favorite scripture: The end of II Cor 9:2, "and your enthusiasm has stirred most of them to action"
Favorite past time: sitting on the porch and watching it rain and geocaching
Vision for Children: Train, resource, encourage and empower people, both adults and children, to be agents of change in our nation and in the lives of children around the world.
Full Name: Charles (Rusty) Russell Williams
Born: August 22
Saved: At the age of 6
Ministry experience: 12 years as Discovery ranger commander in Royal Rangers at Hagerstown Md, 5 years as Royal Ranger Sr. Commander in Alexandria VA. Nationally appointed in March 2008 as an Assemblies of God Children's missionary.
Strengths: Building relationships with non-believers and mentoring young men
Favorite ice cream: Chocolate Peanut Butter Cup
Favorite food: Hot roast beef sandwich with french fries and gravy over the fries
Favorite scripture: John 3:17, "For God did not send His Son into the world that He might condemn the world, but that the world might be saved through Him."
Favorite past time: gardening and hiking