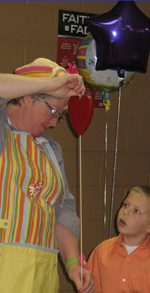 Being a children's pastor myself, at one point, I found it very difficult to actually take a vacation where I wasn't preparing for the following Sunday. I would even plan to leave on a Sunday and return Saturday so that I wouldn't miss a service. Why? Mostly because I wanted to make sure that every service was delivered with excellence. You knew the importance of those two hours each week and you wanted to make sure they connected with Him.
There were certainly other members of the ministry team that could oversee the service but when you invest in the kids the way a children's pastor does you want to make sure everything points them to Jesus. Besides, it was my responsibility, not my teams. Or that's the way I would think. (That's a lesson for another time)
Now that my role has changed to a Children's Missionary, that's when I was blessed to be able to help. One of the great joys of being a missionary is being able to fill the pulpit when a children's pastor wants to take a vacation. That's why I'm glad God informally added "Assume the role of the children's pastor while they are on vacation" to my ministry description.
I love coming into a church, partnering with the ministry team and serving alongside of them to conduct service. I know that I'm helping to bring some much needed rest to a servant of God. God himself rested but often times our Children's Pastors don't find that rest frequent enough. I am able to focus full-time in preparation for that service thus relieving the anxiety of the children's pastor trying to make sure everything is covered that day.
Even when I do assume their role they are still checking in with me to make sure everything is in place and people have showed up on time and I have everything I need. They want the best for the kids in their congregation. They exemplify the saying "Ministry is a lifestyle, not a job".
Thanks to all those who serve in a full-time role as Children's Pastors. May you be renewed in strength, mind and spirit as you occasionally take the opportunity to rest from your responsibilities of pastoring children.